A selection of hand-printed cards inspired by wildflowers, pollinators + animals in New Mexico and the Southwestern United States. Each card is individually cut + folded, and printed by hand. Blue cards are embossed.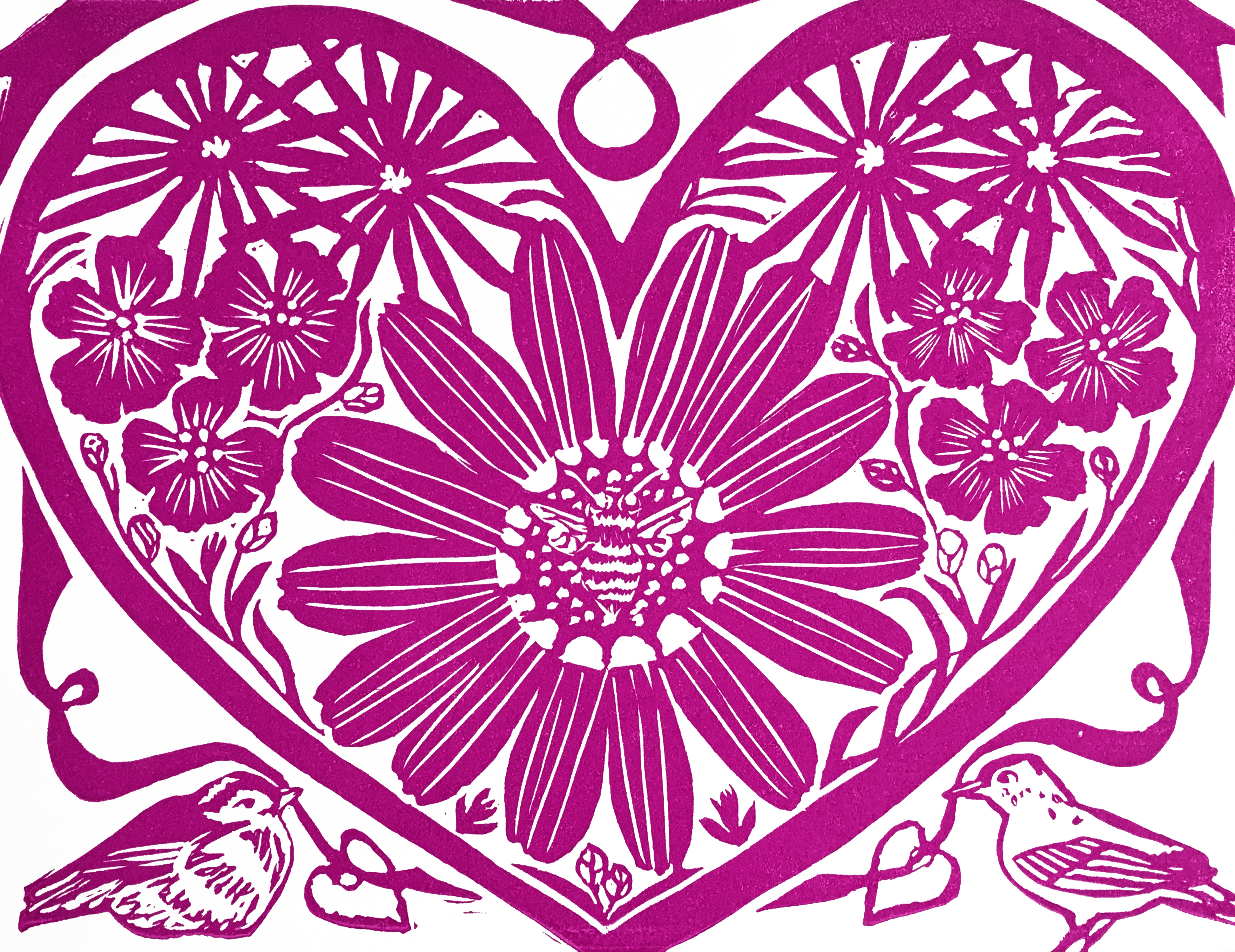 Heart + Flower Card
| lino-cut print | 5 x 7 inches
Left to Right:
Columbine, Indian Paintbrush, Yerba Mansa + Evening Primrose
Roadrunner Heart + Skunk with Arizona Poppy
| lino-cut prints | 5.5 x 4 inches
Cuckoo Bee Pollinating Rosemary Card
| lino-cut print | 3 x 3.6 inches
Winter in Lone Butte
| embosses lino-cut print | 5 x 7 inches
Illustrations + book-making for Moss: A Love Story, written by Jodi Mardesich Smith.

Train Tracts is a traveling literary journal and an experiment in connection. The journal is made up of twelve chapters, each a collaboration between an artist and a writer. The small edition chapters are each unique works of art created by printmakers from around the country (and beyond). The stories are of travel, transformation, and connecting with strangers.
Read the collection at train-tracts.com and an exhibition review on 15 Bytes here.
Limited edition Jagaur prints featuring plants from The Northern Jaguar Reserve in Sierra Madre in Sonora, Northern Mexico that were used in making a special perfume made by Dryland Wilds (Santa Fe, New Mexico). A portion of the proceeds from the prints + perfume went towards supporting The Northern Jaguar Project which strives to preserve essential jaguar habitat through the establishment, care, and expansion of a safe-haven sanctuary in northern Mexico.
Jaguar with Canyon Bursage + Huizache/Acacia Flowers
|
lino-cut print
|
14 x 10.5 inches
Jaguar with Mallow, Fanpalm + Brittlebush
|
lino-cut print
| 14 x 10.5 inches
Jaguar with Honey Mesquite, Hopbush + Organ Pipe Cactus
| lino-cut print | 14 x 10.5 inches
Posters for Sevda Choir's seasonal concerts. Sevda Choir sings songs of Eastern Europe and the Balkans, the Black Sea region, and the Mediterranean. Compelled by the tight harmonies, complex rhythms, vocal acrobatics, and deep storytelling found in these regions, Sevda transports its audience to another place and time. Repertoire includes the rich and intricate vocal music of Albania, Bulgaria, Corsica, Croatia, Georgia, Hungary, Macedonia, Russia, Serbia, Siberia and Ukraine.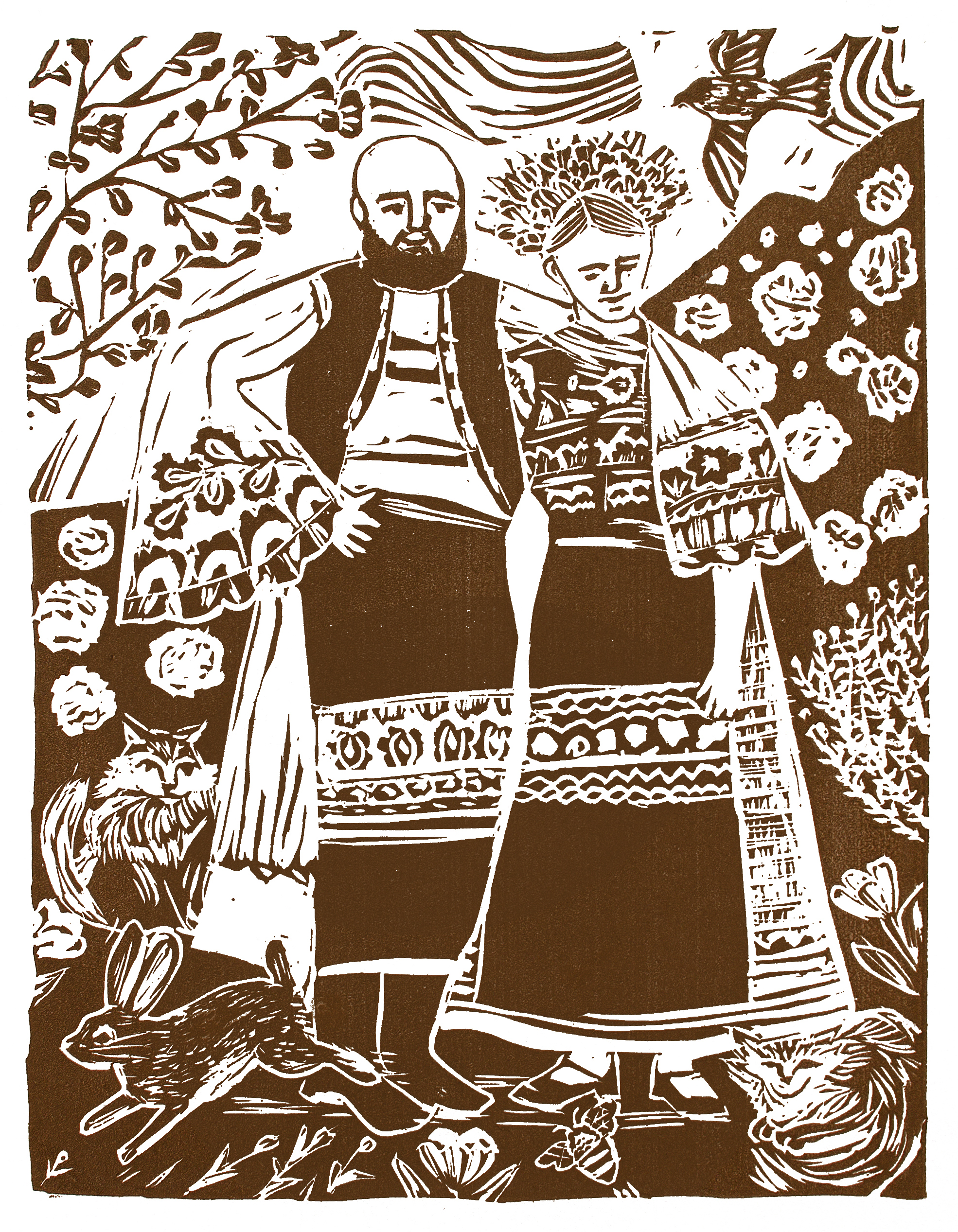 A Hungarian Couple in Traditional Clothing for Sevda Choir's Spring Concert Poster, May 2019
| lino-cut print
A Bulgarian Bride for Sevda Choir's Winter Concert Poster, December 2017
| lino-cut print
A Bulgarian Woman in Traditional Clothing for Sevda Choir's Winter Concert Poster, December 2018
| lino-cut print
Katharinezoiek@gmail.com 505.239.7512 instagram @katnikova Santa Fe, New Mexico